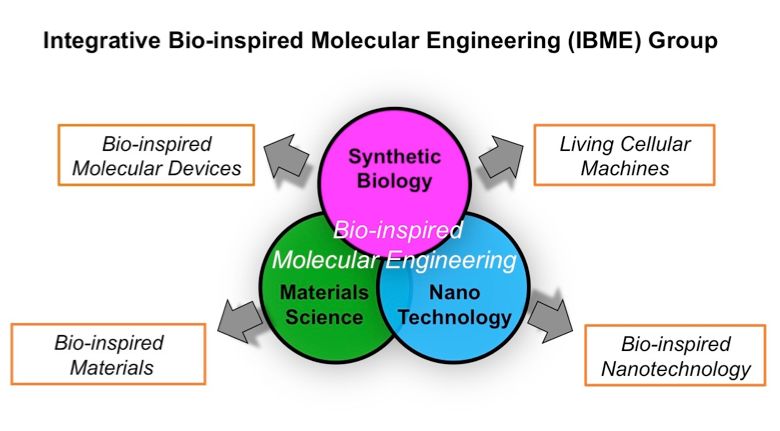 钟老师实验室以生物灵感工程准则为主线,以当代社会所面临的健康,能源和环境等方面的重大问题为导向,致力于下一代生物灵感材料,生物纳米技术或装置的开发和实际应用。具体包括以下几方面:1)生物和非生物界面交叉问题的探索以及相关前沿技术的开发; 2)发展新型的生物灵感性材料,生物仿生纳米技术及其在医药和其他重要技术领域的应用; 3)基于分子,细胞和组织等多级别的生物灵感分子器件和装置的开发及应用。
当前课题组的研究项目主要包括:(1)工程细菌生物膜活体功能材料及其在生物修复,生物催化,人工光合和生物医药中的应用;(2)生物粘合现象和水下粘合材料的开发;(3)基于功能淀粉样蛋白的生物自组装,生物制造以及装置整合。
The Zhong lab at the Materials and Physical Biology Division in the School of Physical Science & Technology (SPST) aims to leverage the power of synthetic biology to develop an integrative bio-inspired molecular engineering (IBME) program, through which new materials, nanotechnologies and devices are created by adapting and applying the ways that living organisms develop and function. The ultimate goal of our research is to create stimuli-responsive, self-regenerating and life-enhancing functional materials and devices by integrating synthetic biology, microbial engineering, materials science, nanotechnology and modern manufacturing tools.
Our current research efforts are mainly focused on structural amyloids, emerging molecular materials with attributes including intrinsic self-assembly, ultra-stability, outstanding mechanical properties and tunable functionalities. Traditionally considered as mis-folded structures relevant to several neurodegenerative diseases in mammals, amyloids have been increasingly recognized as functional building blocks in organisms. For example, they are closely associated with the catalysis of melanin synthesis in mammalian melanosomes; they also constitute the primary structural proteins in bacterial biofilms, and functional components of underwater adhesives in marine species.
Taking inspiration from biology, our research program in harnessing functional amyloids for new biomaterials and bionanotechnologies comprise four main thrusts:
(1) Living Functional Materials;
(2) Bio-inspired Underwater Adhesives;
(3) Dynamic Complex Assemblies and Biofabrication;
(4) Biofilms-interfaced Biocatalysis & Artificial Photosynthesis.
Our research is committed to advancing the emerging field of synthetic biology and pushing new frontiers in biomaterials research and bionanotechnologies.
(1) Living Functional Materials
Stay Tuned ! :)
(2) Bio-inspired Underwater Adhesives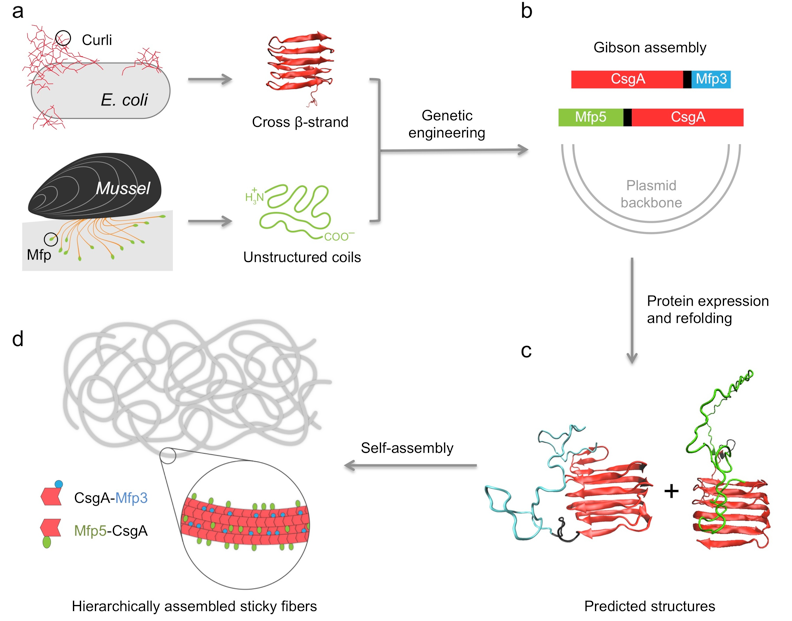 Stay Tuned ! :)
(3) Dynamic Complex Assemblies and Biofabrication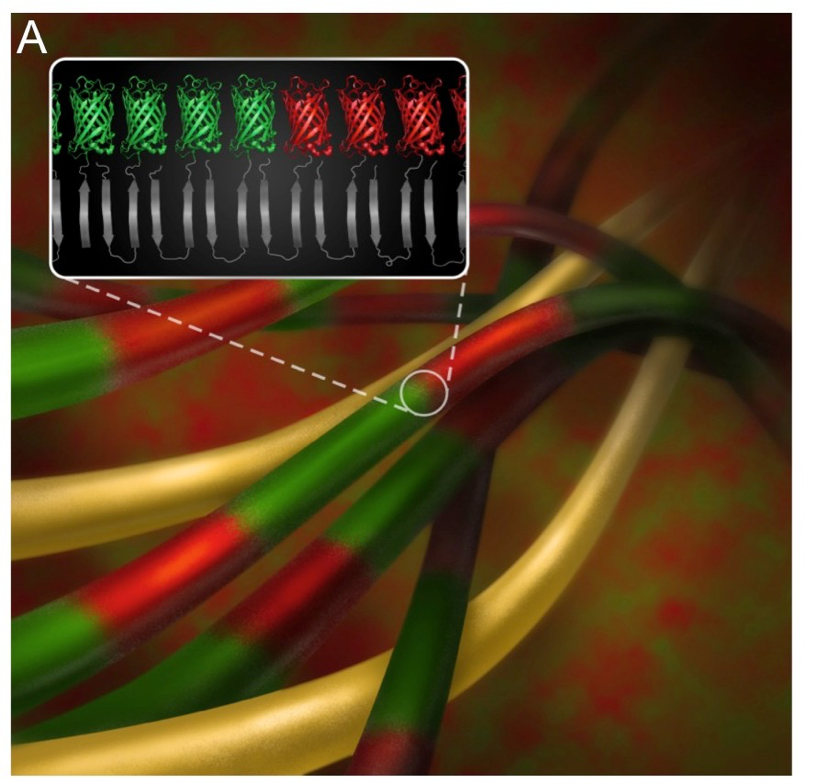 Biological materials and systems are replete with diverse self-assemblies, including both non-equilibrium and equilibrium systems. Self-assemblies constitute the basis of many complex supramolecular structures, providing extraordinary functional properties and playing important physiological roles for various molecular materials and biological machines. Characteristic of such biological self-assemblies is its dynamic, adaptive, and environmentally responsive nature, providing an unparalleled potential for a future repertoire of multifunctional materials and nanotechnologies.
In mimicking the diverse complex assembling systems in nature, we leveraged the intrinsic self-assembling propensity of the FUS LC domain, along with a modular genetic strategy, to construct tailor-designed supramolecular structures with variable functionalities. We demonstrate that this integrative strategy is suitable for creating random copolymer-like, multi-block, and self-sorted supramolecular fibers that displayed distinct fluorescent functionalities and allowed the spatially controlled assembly of nano-objects in structure-dependent fashions (Illustrated in A).
(4) Biofilms-interfaced Biocatalysis & Artificial Photosynthesis
Stay Tuned ! :)