沈晓钦,助理教授,研究员
通讯地址 Office Address:


电子邮件 Email:shenxq@shanghaitech.edu.cn




2005年本科毕业于海南大学,高分子材料与工程系。

2008年硕士毕业于中国科学技术大学,高分子化学与物理专业。

2013年博士毕业于新加坡国立大学,化学系(激光光谱与成像)。

2013年-2014年,在加州大学圣芭芭拉分校Fred Wudl组从事博士后研究,有机电子材料方向。

2014年-2018年,在南加州大学Andrea Armani组从事博士后研究,高品质因子微腔光学方向。

2018年12月加入上海科技大学物质科学与技术学院,任助理教授,研究员。
结合先进激光和光学手段,探索有机光子材料在微腔光子学、生物医疗光子学、集成光电子等方面应用的基础研究。注重交叉学科问题研究,主要包括三个层次和方向:
1)与材料结合的微腔光子学、集成光电子、器件非线性光学等方向的基础问题研究
2)拓展微纳发光材料在生物光子、光子医疗与成像上应用的研究
3)有机发光/非线性光子材料的设计与合成
By utilizing advanced laser and optical approaches, we study organic materials and nonlinear optics. We emphasis in understanding the fundamentals in interdisciplinary problems, with the aim to explore organic optical materials for applications in microcavity photonics, biomedical photonics and integrated optoelectronics. It can be classified into three subarea:
1, Novel high quality microcavities for photonics, nonlinear optics and optoelectronics
2, Exploring nano/micro luminescent materials for biomedical applications
3, Organic luminescent and nonlinear optical materials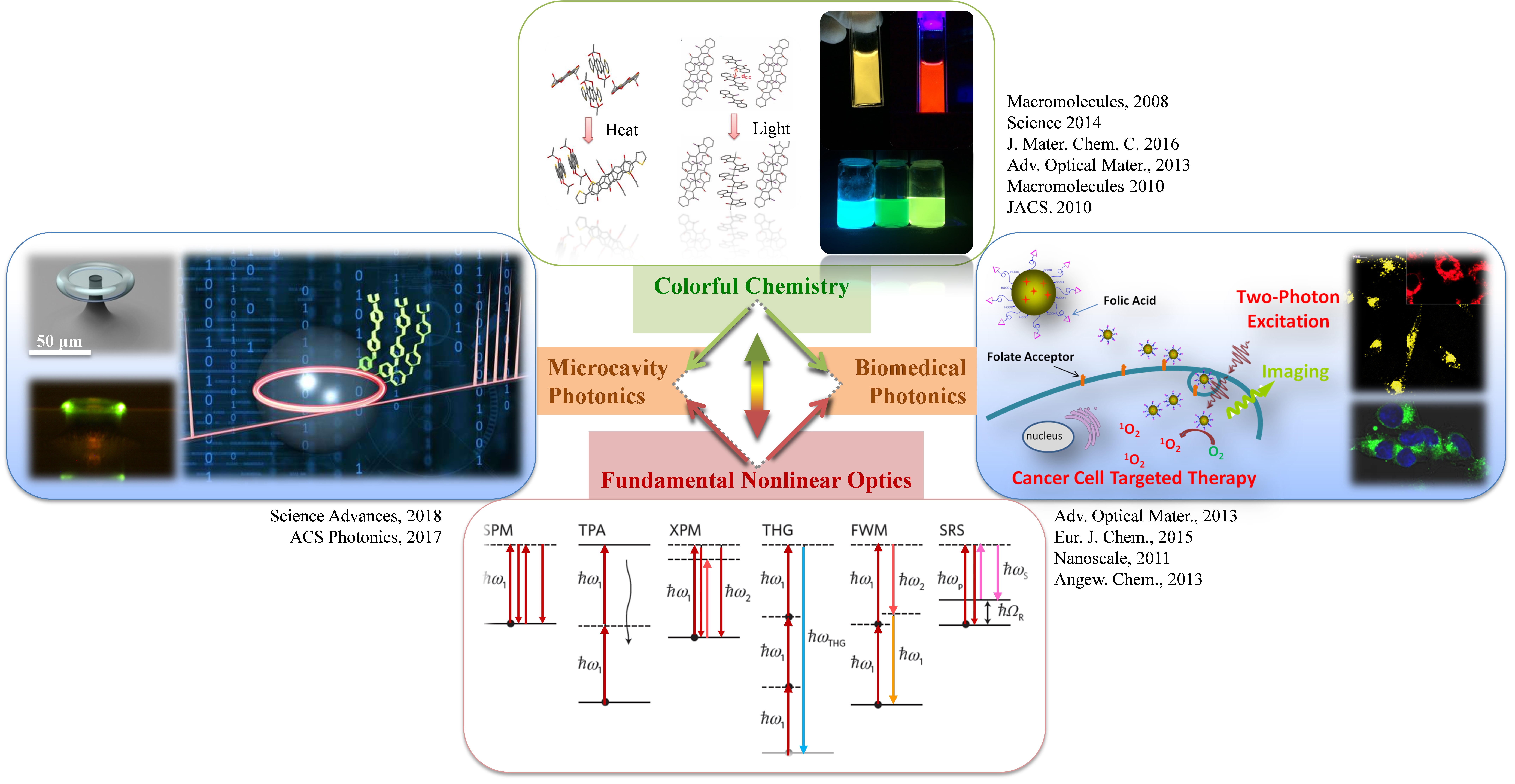 近期的研究兴趣包括:新型高品质因子微腔的设计和微纳加工;微腔非线性光学与自旋电子;有机光-磁材料与分子器件;可一体化集成的化学/生物微传感器;有机柔性光子器件。
Current research interest includes: novel high quality factor (Q) optical microcavities, molecular opto-magneto materials and devices, cavity photonics and spintronics, integrated chemical/biological sensors, flexible photonics.
欢迎热爱科研、具有光学、物理、材料、化学等不同背景的本科、硕博学生加入课题组。★实验室将招收博后一名、助理研究员一名。欢迎联系!
Welcome undergrads and graduate students with different backgrounds (optics, physics, materials or chemistry) to join the group. ★ We are recruiting one RESEARCH SCIENTIST and one POSTDOC (microcavity nonlinear optics). Feel free to contact the PI.
| | | | |
| --- | --- | --- | --- |
| | | | |
Xiaoqin Shen*, Rigoberto Castro Beltran, Vinh Diep, Soheil Soltani, Andrea Armani* 'Low threshold parametric oscillation in organically modified microcavities' Science Advances, 2018, 4(1), eaao4507

Dongyu Chen, Andrea Kovach, Xiaoqin Shen, Vincent Gambin, Andrea Armani* ' Environmental stable ultra-high Q silicon oxynitride optical resonators' ACS Photonics, 2017, 4, 2376

Xiaoqin Shen, Yonghao Zheng, Fred Wudl* 'Thermally induced reversible solid-state transformation of novel s-indancene 1,3,5,7-tetraone derivatives' J. Mater. Chem. C, 2016, 4, 2427

Letian Dou, Yonghao Zheng, Xiaoqin Shen, Guang Wu, Kirk Fields, Wan-Ching Hsu, Huanping Zhou, Yang Yang*, Fred Wudl* 'Single-crystal linear polymers through visible light-triggered topochemical quantitative polymerization' Science, 2014, 343, 272

Xiaoqin Shen,Shuang Li,Lin Li, Shao Q. Yao, Qing-Hua Xu* "Highly efficient conjugated polymer nano-photosensitzers for targeted two-photon photodynamic therapy and imaging"Chemistry - A European Journal, 2015, 21, 2214

Xiaoqin Shen, Lin Li, Agnes Chow Min Chan, Shao Q. Yao, Qing-Hua Xu* "Water soluble conjugated polymers for simultaneous two photon cell imaging and two-photon photodynamic therapy"Adv. Optical Mater., 2013, 1, 92

Lin Li, Xiaoqin Shen, Qing-Hua Xu, Shao Q. Yao* "A switchable two-photon membrane tracer capable of imaging membrance-associated protein tyrosine phosphatase activities" Angew. Chem. Int. Ed. 2012, 51,1

Xiaoqin Shen, Lin Li, Hao Wu, Shao Q. Yao, Qing-Hua Xu* "Photosensitizer-doped conjugated polymer nanoparticles for simultaneous two-photon imaging and two-photon photodynamic therapy in living cells" Nanoscale, 2011, 3, 5140

Xiaoqin Shen, Fang He, Jihong Wu, Guo Qin Xu, Shao Q. Yao, Qing-Hua Xu* "Enhanced two-photon singlet oxygen generation by photosensitizer-doped conjugated polymer nanoparticles" Langmuir 2011, 27, 1739

Ran Shen, Xiaoqin Shen,Zengming Zhang, Yuesheng Li, Shiyong Liu, Hewen Liu* "Multi- functional conjugates to prepare nucleolar-targeting CdS quantum dots" J. Am. Chem. Soc. 2010, 132, 8627
| | | | |
| --- | --- | --- | --- |
| | | | |